St David is the greatest figure in the Welsh Age of Saints, the bringer of Christianity to the Celtic tribes of Western Britain and the only native-born patron saint of the countries of Britain and Ireland.
According to legend, his mother, St Non, gave birth to him on a Pembrokeshire clifftop during a raging storm. As she delivered him, a bolt of lighting is said to have struck a rock she was clinging to, splitting it in two and creating a holy well, which exists to this day. The nearby ruins of St Non's Chapel also mark his birthplace.
St David was thought to have performed a number of miracles during his life, but the most famous one occurred when he was preaching to a large crowd in Llanddewi Brefi. When people at the back complained they could not see or hear him, the ground on which he was stood rose up to form a hill. At that very moment, a white dove, sent by God, settled on his shoulder.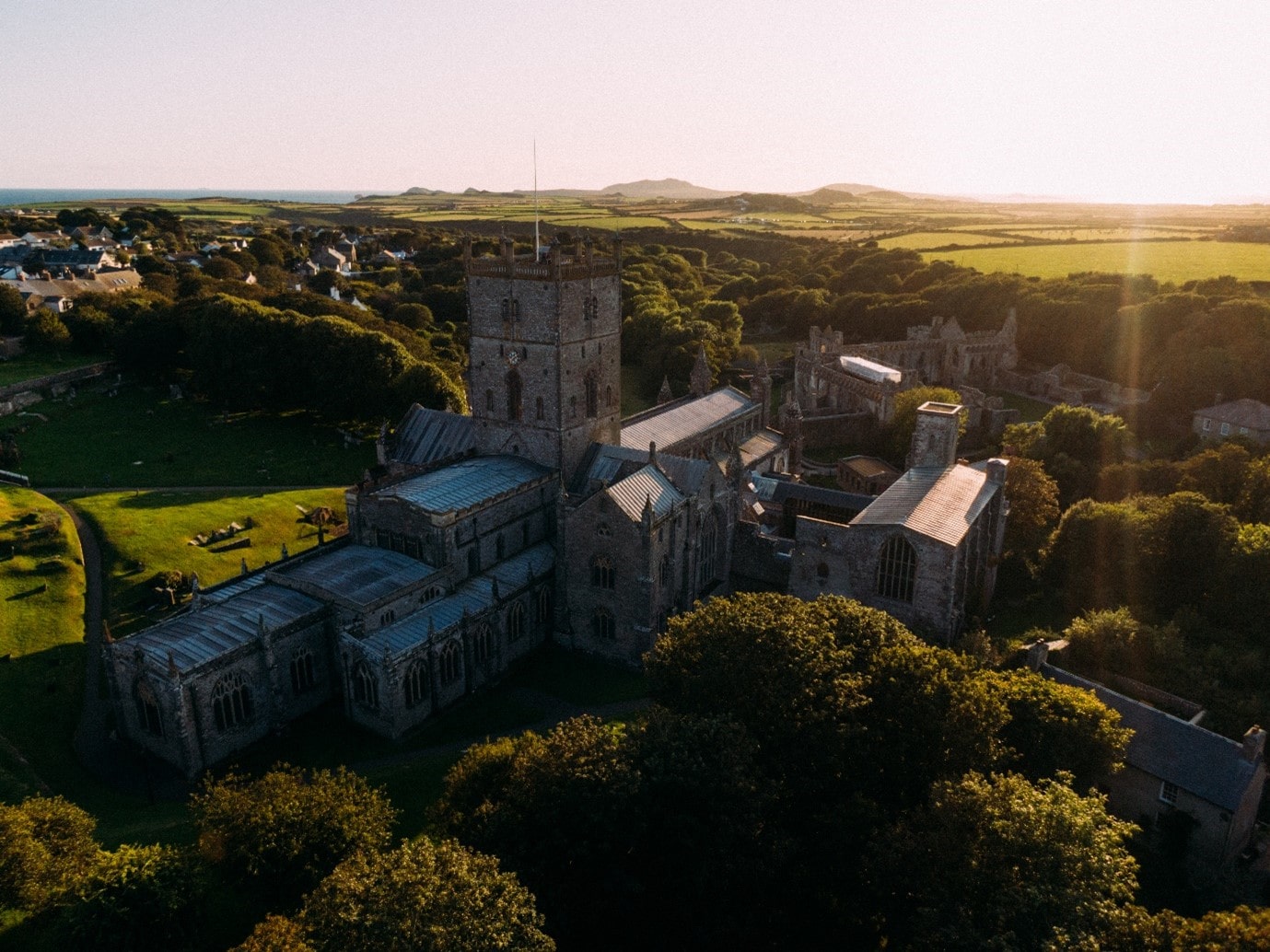 It's said that David played an important role in the battle between the Welsh and the Anglo-Saxons. The Welsh were losing more and more ground and part of the problem was that they couldn't tell their foes apart from their own men, as their clothing was so similar. David called out to them: "Welshmen, you must mark yourselves so that you can better tell who is Saxon and who is Welsh." Plucking a leek from the ground, he continued: "Here, wear these so you will know any soldier who does not have a leek is your enemy." Although some of the soldiers thought this rather an odd idea, they went along with it as the monk was a man of God. Soon, every Welsh soldier was wearing a leek in his helmet and before long, the Welsh had won the battle. Leeks are still worn by the Welsh on his feast day (and national day of Wales), 1 March.
St David was well over 100 years old when he died on 1 March 589. He is buried where the existing cathedral now stands and in medieval times, it was said that two pilgrimages to his shrine were equal to one to Rome.
The cathedral we see today was built following the Norman invasion of Wales and has stood for over 800 years, surviving the collapse of its tower, an earthquake and the Reformation. It continues to enthral and inspire a modern generation of pilgrims.
Celtic Connections 
St Aidan was an Irish monk and missionary who travelled to Wales to study under St David. On his return to Ireland, he was inspired to build his own monastery at Ferns. St Edan's Cathedral, thought to be the smallest cathedral in Western Europe, now stands on the site.
It's said that during a later visit to Pembrokeshire, St David died in St Aidan's arms. St Aidan was considered so highly in Wales that the people considered him a native and devised a family tree that made him a member of Welsh nobility!