It is said that, if you stand overlooking Cardigan Bay, between Aberystwyth and the Dyfi estuary, on a calm day, you might hear the ringing of bells coming from deep below the waves. Could it be your imagination, or could it be you're hearing the bells of the drowned church of Cantre'r Gwaelod?
According to the legend, the kingdom of Cantre'r Gwaelod stood where Cardigan Bay now laps the Welsh shoreline. It was a fertile and prosperous kingdom, with no fewer than 16 heavily-populated cities. But it was low lying and so, a number of steep embankments and dykes had been built to protect the land from flooding. There was also a system of sluice gates to allow water to enter the kingdom in order to irrigate the agricultural pastures. 
The kingdom was ruled by Gwyddno Garanhir and he had made his friend Seithennin guardian of the sea defences, a role that included making sure the sluice gates were shut every night. However, after a night of revelry at the king's palace, Seithennin stumbled drunkenly into bed without checking the gates were closed.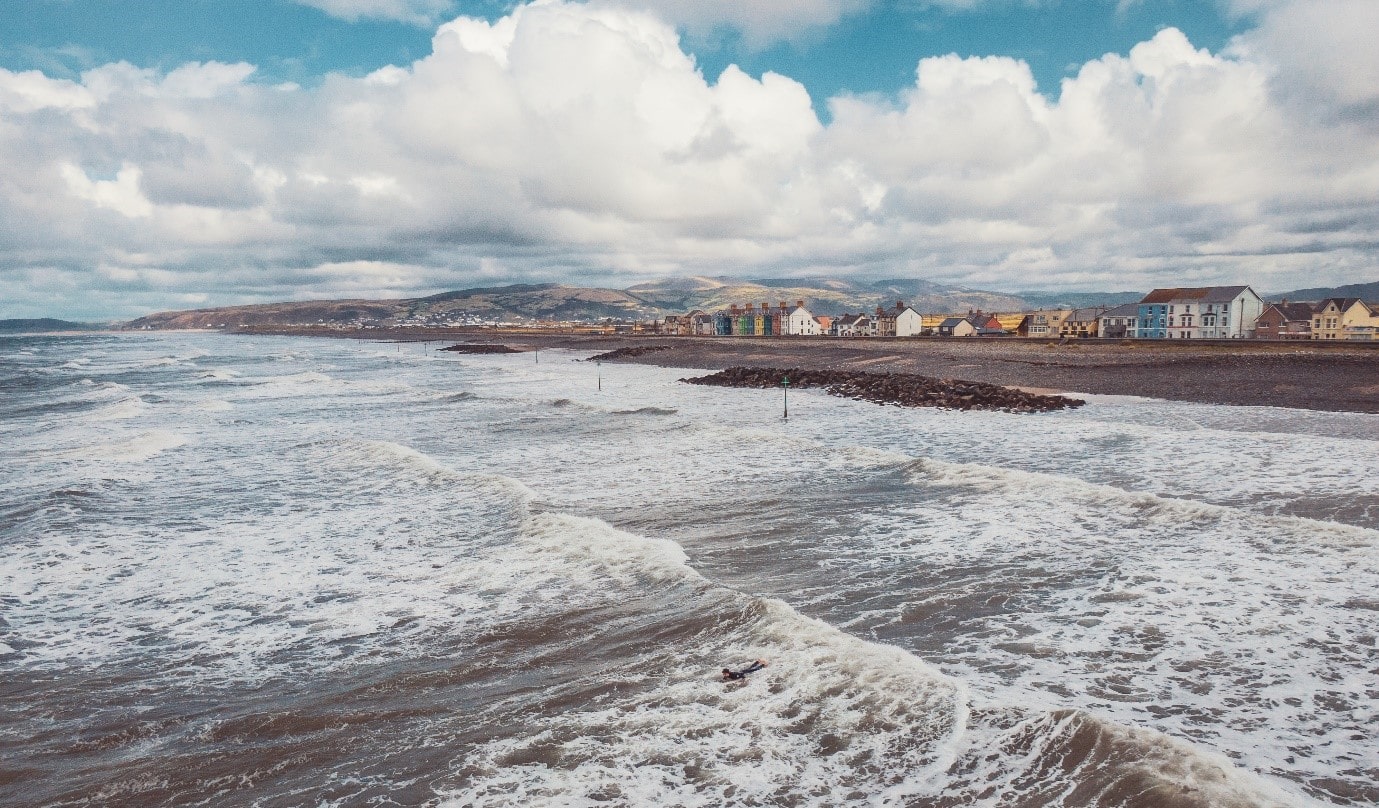 Unfortunately, it happened to be a stormy night that night and the high spring tides broke through the defences, quickly flooding Cantre'r Gwaelod and forcing its people to escape to the hills.
Like most legends, it's difficult to say where fiction ends and fact begins. Some say that the story of Cantre'r Gwaelod is actually a parable to warn people about the perils of over-indulging. However, there is physical evidence that inhabited land did disappear under the waves during the period that the tale is set. In all likelihood, this flooding was due to the rising sea levels at the end of the last glacial period.
As well as the stumps of an ancient sunken forest that can be seen at very low tide at Ynyslas, archaelogists have also found a timber walkway, dated between 3,000 and 4,000 years ago, which was probably built so locals could continue to live in an increasingly waterlogged environment. Human and animal footprints have also been found preserved in the hardened top layer of peat, along with burnt stones that came from ancient hearths.
To see the sunken forest and other evidence of this 'lost kingdom', we recommend you head to Borth and Ynyslas during the winter months, when the strong tides wash away more of the sand.
Celtic Connections 
There's also proof of 'lost landscapes' across the Irish sea. At very low tides, a 6,000-year-old fossilised forest becomes visible off the North Beach at Bray.  Marine researchers have undertaken further undersea exploration for signs of the first Irish settlers that may have lived there. These lost landscapes are signs that the shores of Wales and Ireland were at one time much closer to each other than they are today.